The Legend of a Ski Resort Website
As avid snowriders, our team at Alpenglow Agency was elated to develop a new website for Wisconsin's #1 ski resort, Granite Peak. We teamed up with our long-term agency partners at FISH, who created UX, design and direction throughout the process.
Granite Peak opened in 1937, making it one of the oldest ski resorts in the nation. Located in Rib Mountain State Park, Wisconsin, their all-important snowmaking system was given a major upgrade in 2021. On the horizon the resort is preparing for an exciting expansion. What better time to relaunch the website?
The new website design paired a user-friendly navigation with a bright and fun page layout. Guests can easily purchase ski passes, see current weather, events and announcements, and indulge in the history of the Granite Peak Legend over the past 60+ years.
We've highlighted some of our favorite features that take this project to the summit of ski resort websites: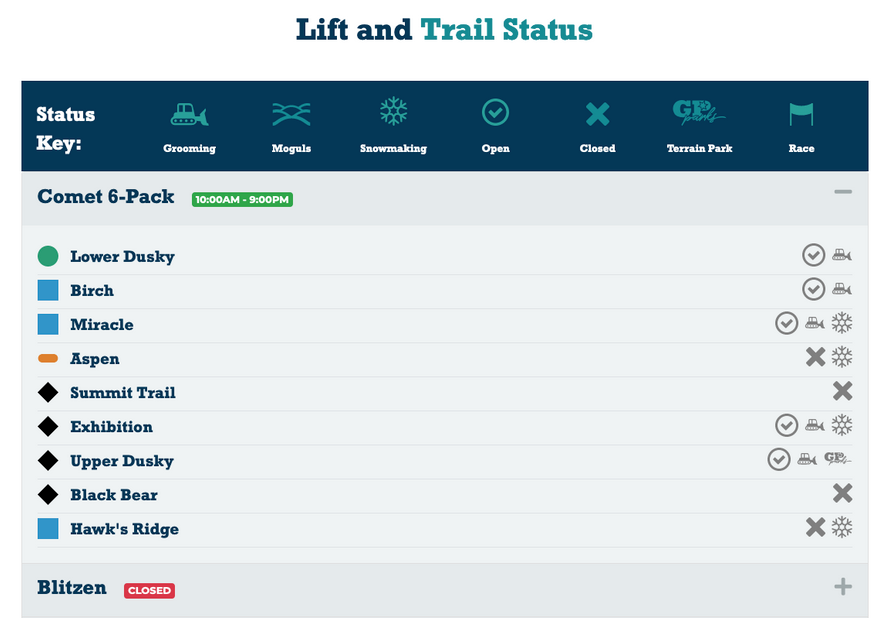 Chairlift and Trail Status Report
We created an accordion module with Advanced Custom Fields to report current lift and trail information. This custom application adds attributes beyond open and closed status. We included grooming, moguls, snowmaking, terrain park and race designations. When the viewer expands the accordion they reveal up-to-date details on every trail at Granite Peak.
Main Menu, Navigation, Events and More!
For the main navigation, we developed a "mega menu", which provided the opportunity to incorporate remarkable photos along with quick-link buttons for easy navigation. We made the upcoming events easy to find by sprinkling them throughout the website along with an entire dedicated page with event category filters.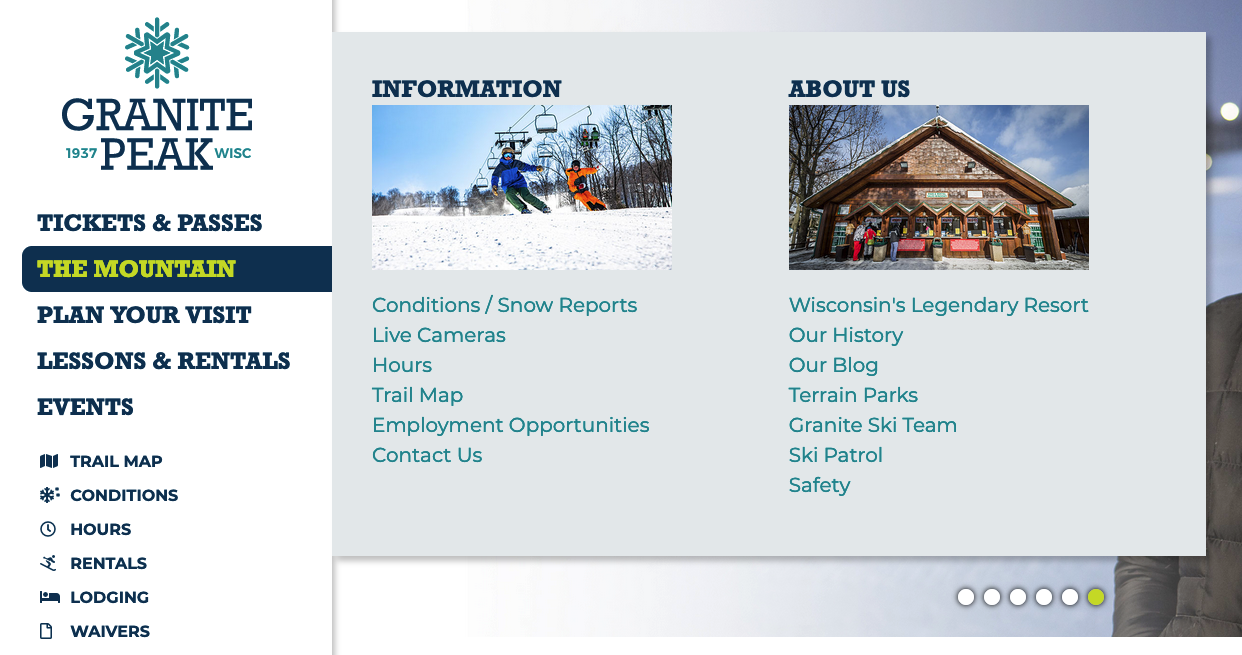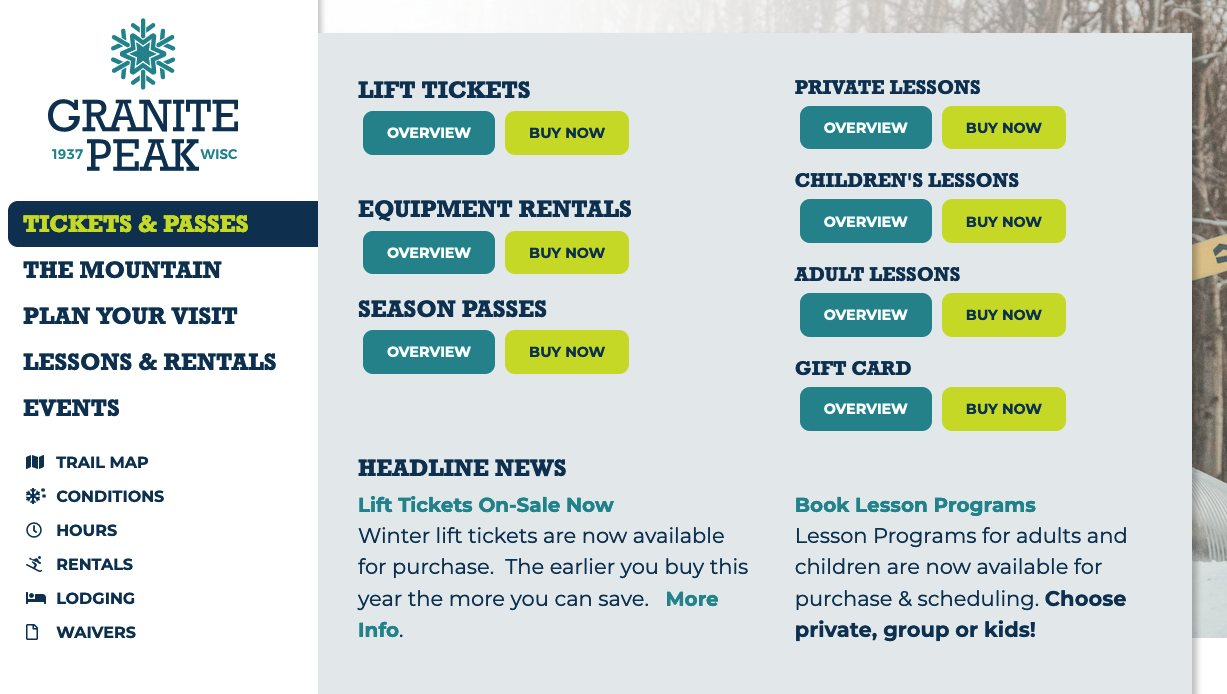 Ski resorts require a large amount of information to be accessible to their visitors. We packaged this in an easy-to-view format by organizing the most desired topics in the forefront: "Tickets", "Lessons", "Conditions", and "Rentals". Along with these stand-out items, there is a plethora of information that can be found by diving deeper into the website while not allowing the user to feel lost.
Some other great features include their iconic snowflake logo, accordions and tabs incorporated throughout the page design, plus an engaging blog where the General Manager can speak directly to visitors.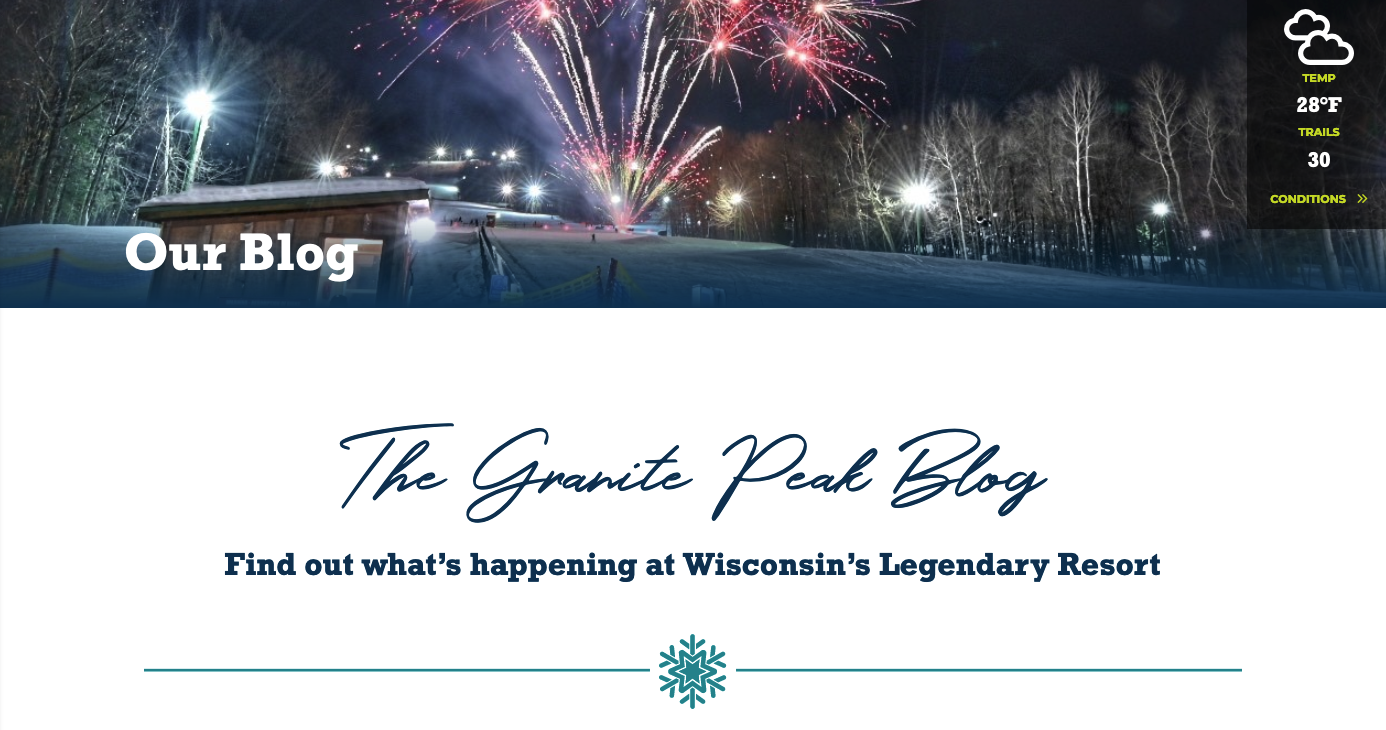 "The new navigation will lead you to quicker purchases for those of you looking for tickets, scenic rides, lodging and more through quick link buttons."

– Greg Fisher, Granite Peak
"It's a clean, colorful site that's got a great interface and a lot of nice features that add value without adding noise or complexity."
– Gregg Blanchard, SlopeFillers
The stoke for building this website among our team was high to say the least. Granite Peak has received high praise for the revamp and that's probably the best compliment we can imagine. If the client is happy, that's one thing. But when the client's customers are happy, that is the ultimate measure of success. Here's what some of their web visitors are stoked about:
"Love the new website and especially the History section. Excellent work to put that together. Well done!"

"Nice job!"

"I like that the prices for lift tickets are much easier to understand now; it was so confusing before."

"Love the new site, almost as much as I love the new snowmaking upgrades – huge win"

"Much better!!!"